Covid-19 has had a global impact on education, halting educational and training facilities, and Nepal is no exception. Despite ongoing Covid-19 crisis all across the world Nepal National Mountain Guide Association has successfully completed level I training, one of the key credentials set by IFMGA required to be a certified mountain guide, for aspirant guide courses in Naa valley, Rolwaling.
"Twelve people participated in this year's entry exam for the aspirant guide course",  said Abiral Rai, an IFMGA guide involved in organizing training.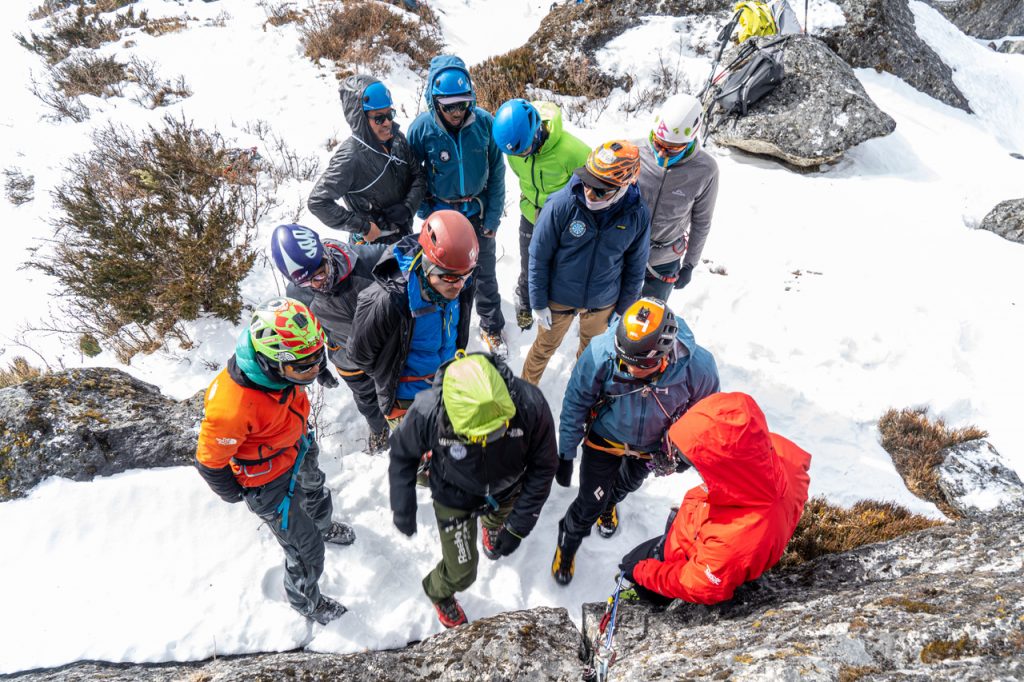 The prerequisites for the aspirant guide entrance exam are either superior level mountaineering experience of five different mountaineering expeditions or completion of climbing trainings such as basic mountaineering, basic rescue, high mountain rescue, rock level one, ice level one, advanced mountaineering, and experience on four trekking peak summits.
There is also a provision of applying for the entry exam by completing an intermediate bridge course which is provided by the association.
Among the series of entrance examinations for the aspirant guide course, the candidates must successfully complete seven disciplines i.e., profile documentation process, oral test, rock-climbing route of 6b grade using rock climbing shoes, rock climbing route of 6a grade using alpine boots with 10 kg backpack, Ice parkour Cramponing test on 200m long route glacier within twelve minutes, technical ice climbing test at 70O slope and rock parkour scrambling 200m length within twelve minutes.
"Participants would be qualified for component I of the aspirant guide course after qualifying all of these seven disciplines," states NNMGA's technical committee director Narendra Sahi.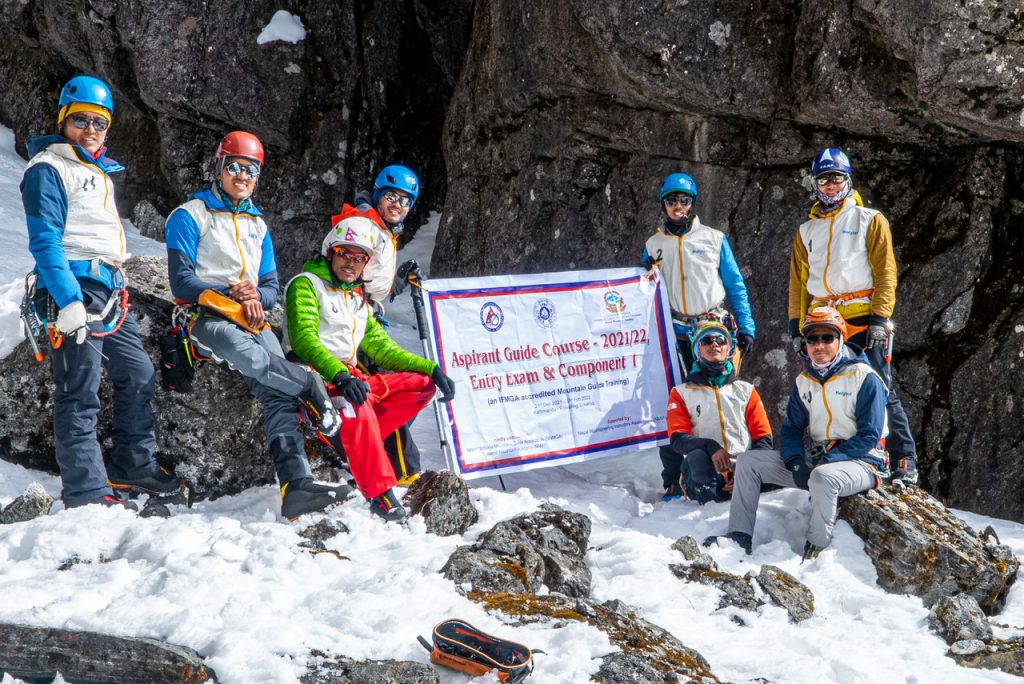 The association plans to produce more than two hundred IFMGA guides in the coming five years in the country. "This association is established with an objective to unite manpower involved in mountaineering profession and develop their standard activities in mountaineering to provide additional economic support to the nation through such trained manpower", claims NNMGA's President Ang Norbu Sherpa.
"Only eight of the twelve participants were able to pass the entrance exam. On the basis of a rock-climbing inspection, the remaining four, including one Indian citizen, were rejected", said Nima Tenjing Sherpa, chief instructor for the aspirant guide course.
Four instructors from the organization, Nima Tenjing Sherpa, Narendra Shahi, Riten Jangbu  Sherpa, and Hareram Khadka, evaluated the entry exam and component I. The participants who qualify component I will be announced on February 2nd and will advance for the component II of the aspirant guide course in June.
Tshiring Jangbu Sherpa, NNMGA general secretary, who had also worked as a member of Nepal's first Everest Height Measurement expedition, said the association has recently  signed a new memorandum of understanding with Nepal Mountain Academy to produce more mountain guides in the days to come. "We have proposed that students who successfully pass the bachelor's in mountaineering studies will be eligible to compete for the entry exam of the aspirant guide course conducted by the association. This will help to increase the number of mountain guides in years to come in the context of a shortage of experienced mountain guides during the expedition season."